This application allows you to convert videos in DivX, as well as those downloaded from YouTube, to a format compatible with all popular mobile phones. ALL Converter to 3GP/MP4 is one of the converters that are easy and intuitive to use.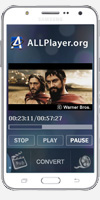 Like in the case of the previous converters, the user has the option to add external subtitles to be displayed in the window together with the film. The subtitles added to the video file will be proportionally scaled to any screen size of a mobile phone.
Features of ALL Converter to 3GP/MP4:
Ability to preview a movie with subtitles during the conversion process.
The ability to read all subtitle formats: srt, smi, MPL2, txt, sub, etc.
Possibility to download additional settings like the color, format and size of font when ALLPlayer 4.1 or above is installed.
Output files can be found in the same directory as the video source. Pressing the "INFO" key will provide information about the converted file.