1. MENU OPERATIONS:
MAIN MENU:

 

YOU CAN ADD ONE OR MORE FILES TO BE CONVERTED

 
 

YOU CAN ADD AN ENTIRE FILES DIRECTORY (E.G. THE WHOLE SERIES SEASON OR THE WHOLE MP3 ALBUM)

 

 
 

ADD THE ENTIRE DVD OR CD DISK

 


TOP MENU:

 

 

1. ADD FILES TO BE CONVERTED

2. PROGRAM SETTINGS:

DEFAULT CONVERSION

CHECK FOR UPDATES

DEFAULT FILES LOCATION

SUBTITLES SETTINGS (FONT, COLOR, SIZE, DISPLAY TIME ETC)

LANGUAGE

3. HELP:

PROGRAM REGISTRATION

ENTER REGISTRATION CODE

UPDATE

ABOUT THE PROGRAM (VERSION, LICENCED TO...)
2. AUDIO & WIDEO SETTINGS: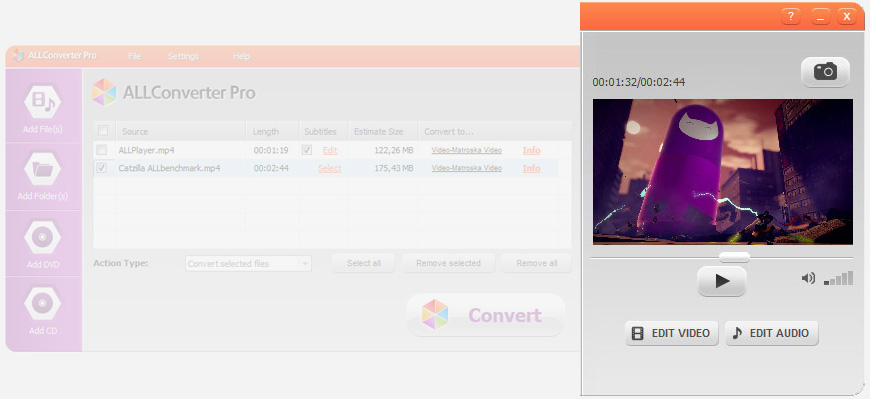 YOU CAN EDIT FILES TO BE CONVERTED IN ALL CONVERTER PRO:
BY PRESSING YOU CAN CHANGE VIDEO PARAMETERS:

SYSTEM (PAL / NTSC)

FRAME SIZE

FRAME RATE (FPS)

ASPECT RATIO

VIDEO ENCODER

BITRATE

VERTICAL/HORIZONTAL FLIP, ROTATE

CROP

TRIM

ADD WATERMARK

 

BY PRESSING YOU CAN CHANGE SOUND PARAMETERS:

SAMPLE RATE

ENCODER

CHANNELS (MONO, STEREO. 2+1, 5.1)

BITRATE

 
3. FILE CONVERSION :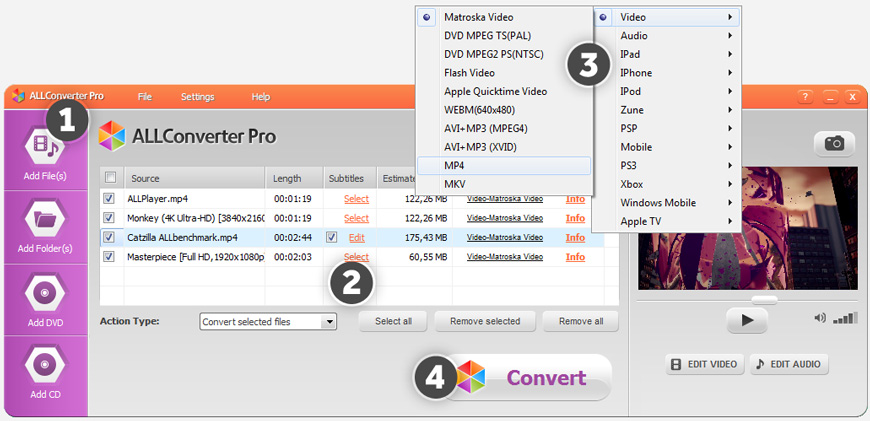 1. Add file, folder or CD/DVD to convert.
2. Add subtitles to the movie.
3. Choose conversion format.
4. Click - Convert